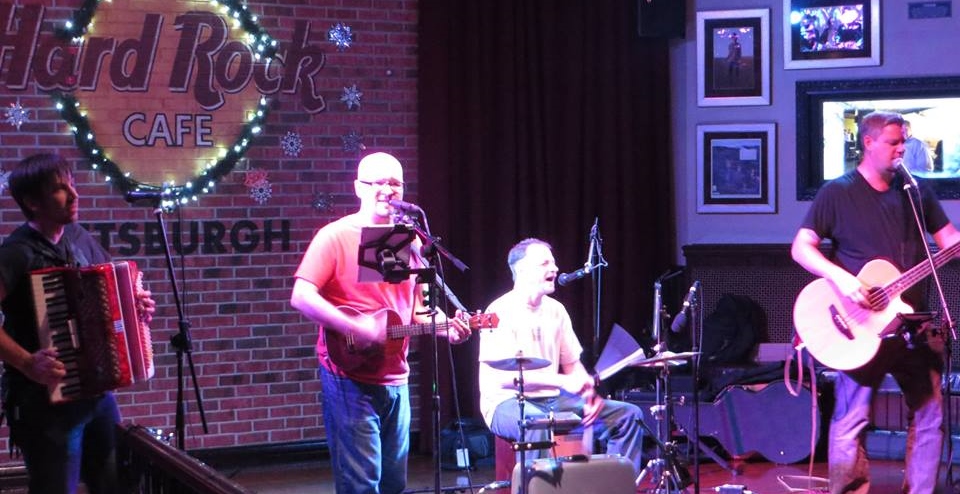 '80s music...and BEYOND! Weird instruments! The Adorabulls play ANYTHING that gets people up and dancing. From '80s to Oldies, hip-hop to '90s alternative rock, these 4 dudes take cover songs on weird instruments to new heights. (Ryan DeNardis - accordion, John McNulty - ukulele, Michael A. Keller - suitcase percussion, Mike Kuhn - bass). Straight outta Pittsburgh, PA.

FACEBOOK / TWITTER / EMAIL:


SET LIST:


1999 Prince
7 Nation Army White Stripes
Africa Toto
All My Loving Beatles
Always Something There to Remind Me Naked Eyes
American Girl Tom Petty
American Music Violent Femmes
Any Way You Want It Journey
Ball and Chain Social Distortion
Billie Jean Michael Jackson
Blister in the Sun Violent Femmes
Brown Eyed Girl Van Morrison
Bye Bye Love Everly Brothers
Careless Whisper Wham
Cars Gary Numan
Celebration Cool & the Gang
Centerfold J. Geils Band
The Chicken Dance Traditional
Come on Eileen Dexy's Midnight Runners
Come Together Beatles
Country Roads John Denver
Crazy Gnarls Barkley
Crazy Train Ozzy Osbourne
Creep Radiohead
Dancing Queen ABBA
Dancing with Myself Billy Idol
December 1963 (Oh What a Night) Four Seasons
Don't Change INXS
Don't Stop Believin' Journey
Don't You Forget About Me Simple Minds
Don't You Want Me Baby Human League
Down Under Men at Work
Dyer Maker Led Zeppelin
Eye of the Tiger Survivor
Fight for your Right (to Party) Beastie Boys
Friends in Low Places Garth Brooks
Gimme Some Lovin' Spencer Davis Group
Gin and Juice The Gourds
Good Lovin' Rascals
Hey Mickey Toni Basil
Hey Ya Outkast
Hollaback Girl Gwen Stefani
Hooked on a Feeling Blue Suede
Hungry Like the Wolf Duran Duran
I'm a Believer Monkees
I'm Alright (Caddyshack theme) Kenny Loggins
I'm Too Sexy Right Said Fred
I Melt With You Modern English
I Saw Her Standing There Beatles
I Wanna Be Sedated The Ramones
I Want You To Want Me Cheap Trick
I Will Survive Gloria Gaynor
If I Had a Million Dollars Barenaked Ladies
In the Still of the Night Five Satins
Island in the Sun Weezer
It's the End of the World REM
Jenny (867-5309) Tommy Tutone
Jessie's Girl Rick Springfield
Jive Talkin' Bee Gees
Jump Kris Kross
Just Like Heaven The Cure
Karma Chameleon Culture Club
Laid James
Last Nite Strokes
Letterbox They Might Be Giants
Livin' on a Prayer Bon Jovi
Lonesome Loser Little River Band
Low Rider WAR
Love Shack B52s
Lovesong The Cure
Maniac (Flashdance theme) Michael Sembello
Material Girl Madonna
Maybe I'm Amazed Paul McCartney
Mrs. Robinson Simon and Garfunkel
My Girl Temptations
Need You Tonight INXS
Nowhere Man Beatles
OblaDi OblaDa Beatles
Piano Man Billy Joel
Plush Stone Temple Pilots
Praise You Fat Boy Slim
Pressure Billy Joel
Proud Mary Creedence Clearwater Revival
Raspberry Beret Prince
Rebel Rebel David Bowie
Renegade STYX
Ring of Fire Johnny Cash
Rock and Roll all Nite KISS
Rock this Town Stray Cats
Safety Dance Men Without Hats
Satisfaction Rolling Stones
Sexy Back Justin Timberlake
SHOUT! (from Animal House) Everly Brothers
Still the Night Bodeans
Stuck in the Middle With You Stealer's Wheel
Summer of 69 Bryan Adams
Sweet Caroline Neil Diamond
Sweet Child O' Mine Guns N' Roses
Swingtown Steve Miller Band
Tainted Love Soft Cell
Talk Dirty to Me Poison
Take it on the Run REO Speedwagon
Take Me Out Franz Ferdinand
Take On Me A-ha
Tequila Champs
These Boots are Made for Walking Nancy Sinatra
The Tide is High Blondie
The Weight The Band
Total Eclipse of the Heart Bonnie Tyler
Tubthumping Chumbawamba
Video Killed the Radio Star Presidents of the USA
We're Not Gonna Take It Twisted Sister
We Can Work It Out Beatles
Werewolves of London Warren Zevon
What I Got Sublime
When the Saints Go Marching In Mardi Gras Traditional
With a Little Help from my Friends Joe Cocker
Working for the Weekend Loverboy
You Never Can Tell (Pulp Fiction soundtrack) Chuck Berry
You Shook Me All Night Long AC/DC
You Spin Me Right Round Dead Or Alive


THE ADORABULLS BACKGROUND STORY
PITTSBURGH, PA. The idea for this weird-instrument cover band started taking shape on December 25, 2013, when John McNulty got a ukulele for Christmas. A longtime singer/drummer/guitarist, he immediately set about to learn a few '80s songs on this new instrument and landed an opening gig at Bloomfield Bridge Tavern on April 26, 2014. As the date approached, he added Facebook friend/drummer Mike Bartko and Craigslist bassist-for-hire Brenton Renner. Running the ukulele through some guitar effect pedals, the band covered everything from Violent Femmes to RANCID and the first Adorabulls gig was a smashing success.

The current lineup features accordion virtuoso Ryan DeNardis, acoustic bassist Mike Kuhn, and suitcase/cajon player Michael A. Keller. The concept evolved and the new goal became to play familiar dance and party songs on strange instruments. Every member can sing, allowing for different lead singers, multi-part vocal harmonies, and even the occasional hip hop beatboxing part.

The result is a very full and professional sound that takes the first time listener by surprise. McNulty and Kuhn keep the party jumping with a lot of crowd interaction, DeNardis melts their faces with blazing accordion solos, and Keller amazes with his high vocal range and homemade drum kit built from an old suitcase.